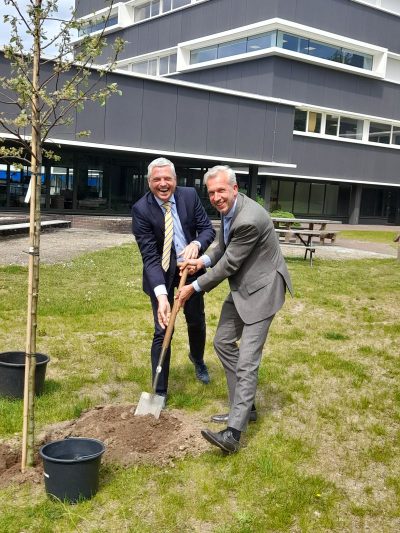 Recently we kicked off the second phase of the HyDelta programme. A festive moment to mark the kick off and the succesfull cooperation of the HyDelta Consortium, René Schutte of Gasunie and Rob Martens of Netbeheer Nederland planted an apple tree at Kiwa's Hydrogen Experience Center.
In HyDelta 2 the research will focus on
. economic aspects of the hydrogen system
. hydrogen safety in the gas grid
. hydrogen and transport assets
. social and environmental aspects of hydrogen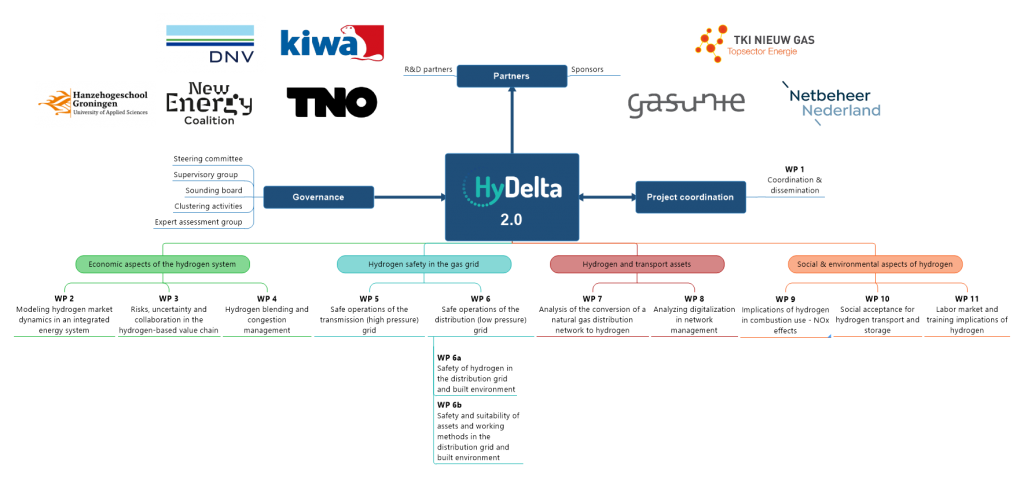 Also, for this next step, the HyDelta Consortium is extended with the partnership of Hanze University of Applied Sciences Groningen, who's expertise will be covering the social and environmental aspects of hydrogen (WP 9, 10, 11).
About Hanze UAS:
With over 30,000 students, Hanze UAS is one of the largest universities of applied sciences in The Netherlands. Their main areas of expertise are entrepreneurship, healthy ageing and energy. The research in the field of energy is directed from the Centre of Expertise Energy by 10 professors who, from various disciplines (e.g. engineering, economics, law, ICT and social studies), set up and carry out interdisciplinary and intradisciplinary research in collaboration with stakeholders. The proposed research in HyDelta 2.0 will be conducted under the supervision of Dr. Carina Wiekens (lecturer) of the research group Communication, Behaviour and the Sustainable Society. This professorship has over 10 years of experience in the field of research on public support, preventing and dealing with resistance, stakeholder participation and stakeholder engagement. Examples of projects are 'public support for biogas' (Flexigas, a.o. EU Fund for Regional Development), 'long-term participation processes in area-based development' (R-LINK, NWO VerDuS SURF), 'stakeholder perception and engagement research on platform electrification' (NSE3, Top Sector Energy), 'participation strategies for striving towards energy neutral islands' (IANOS, H2020) and 'social feasibility study G2P with CCS' (TKI New Gas).